The musings, rantings, longings, and fawnings of a teenage fashion maven with a propensity for writing.
Saturday, February 21, 2009
Friday, February 20, 2009
Thursday, February 19, 2009
Monika Jagaciak is the belle du jour.
She's booked New York left and right (here she is at Hervé Leger) and shows no signs of stopping. It is even rumored that she has opened Calvin Klein today, the most watched show in terms of casting.
She is beautiful. She is pretty. She is pale. She is pencil thin. Look at her!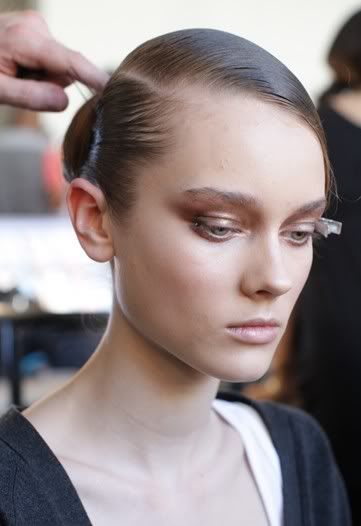 (Yawn.)
I know I'm beating a dead horse, but
haven't we seen enough anemic Eastern European androids
?
Yeah, I guess I
am
a bit bothered.
Her ubiquitous success is almost alienating
I'm not saying she looks bad.
I'm not saying she's ugly.
I'm not saying she's mean.
I'm not saying she's a bad model.
I'm just saying I'm bored.
Posted by

harryshouldnotblog
at 7:09 PM
1 comment:

Oh yes.

I am back.

...again.
(Gonna go hide now.)
It's so
hard
to keep this up, I'm sure you can relate.
No time for excuses.
I don't want to bore you.
The fact of the matter is, for now, I'm back.
Just know that.
I've not died. I've just been busy.
(School, theater, speech team, morethatyoumayormaynotcareabout...)


Who cares?



The shows have begun!
I've reporting to do.
Be jubilant!
So, NYFW

...
For the most part, it's been alright.
Not great. Not bad.
However, some designers (expected, and unexpected) have shown

knockouts

, and, more importantly, fearlessness in the face of hard times.
It's reassuring! Refreshing!


BE JUBILANT!


These collections stand out to me for new reasons.
I can feel my tastes changing.
Aside from having innate beauty and general cohesiveness, they all communicate times, places, people, things.
However, when worn, these intricate references melt away and

you

(the wearer) just

look

good.


That's

fashion

, I guess.
My picks (thus far) are as follows.



Alexander Wang



Wang has a formula...and honestly? It works every time (with subtle changes of course). The collection was all hardcore nineties minimalism (vet models included!) with an aggressive, downtown edge. It wasn't pretty, but that's not to say it wasn't desirable.


Altuzarra
Joseph Altuzarra is the new kid in town. He's worked for Proenza and Givenchy, but his debut solo effort exuded something all it's own. His separates and cocktail dresses were minimal and futurist, but also undeniably sexy. His work with draping was also subtly innovative. This is restraint that translates, and I can't wait to see more.


Carolina Herrera
Carolina's collection made me just so happy. You can't help but think of the woman herself when you think of the Carolina Herrera brand, and I could just

feel

that knowing aura of aristocracy she exudes when taking in her gorgeous effort for fall. The fabrics were impossibly lush, and there was also an expert mix of debutante and matron in terms of the silhouettes. Call it the bourgeoisie in me, but this sort of assured maximalism is something I live for.


Donna Karan
Move aside. Donna Karen's Office Dominatrix is back witha a vengeance, and you're not worth her time. Back to the coffee machine!


Doo.Ri
Brooding, sleek, sensuous...and wearable? Miss Chung surprised me with a chic black and white collection that is, above all else, extremely covetable.


Hervé Leger
Okay, yeah, I know, right?

Hervé Leger.

Cut it some slack! This

was

brazenly sexual...but with a conscience. Azria used colors (earthtones!), textures (braiding?!), and shapes (uni-shoulder pads?!?!) that one would seldom associate with all the Hollywood, form-fitting va-va-voom that the brand entails. Hot.


Hutson
Oh, the Hutsons. How do I love thee! The husband and wife duo's new line (formerly known as Daughters) hit all my soft spots. The color palette was dank, but chic dank (there IS such a thing, mind you). The materials were intensely luxurious and the silhouettes smart, retro, and very Parisian. What's not to love? I hope they never let the pressures of womenswear (they formerly did only mens) hinder their panache for tailoring.


Jenni Kayne
Jenni Kayne is always the same. Such is my love!


Michael Kors
This was a surprise. Most of the time, I

almost like

Kors, but this collection really resonnated. It was similar to Donna Karan in that it was all about what Kors refered to as "pragmatic luxury", and definitely evoked a powerful, wealthy woman. However, all this practicality had a large dosage of fun to counter it. Three acid-colored fur chubbies felt, rather than perverse, exuberant and daring. The man makes beautiful clothes, but his true dedication to America's jetset is what really shines through and appeals.


Oscar de la Renta
Call him stuffy and call him old guard, but ODLR knows what he's doing. While some of his designs verge on the dated, his color palette, craftmanship, and dedication to the world's womwn of distinction are what make his collections seem not only appropriate, but also quite beautiful. This yellow piece is a sculptural knockout, and this rich color sensibility with accents of gold carried itself throughout the entire collection. The discreet charm of the bourgeoisie gone bold.


Rodarte
I don't think I could really ever truly hate a Rodarte collection, just because I love THE MULLEAVYS so much. The boots were a bit silly, but the frocks and jackets are what made this ethereal, organic collection work. The sillhouette for the dresses (short and sexy) was a tad too rigorous, but the intrigueing marbled fabrics that they were constructed from elevated something potentially tarty to a higher ground of intellectualism. The knit fringing on the jackets was delightfully barbaric. I was reminded of Björk's

Homogenic

, if you were looking for a reference point. (PSH.)


Victoria Beckham
Give Poshies some credit, okay? Or at least her deign team. It was well-made. It was chic. It was cutting edge. It was (mostly) classy. I'm telling you, HER collection was better than some of our fashion vets'...and I kid you not.

For the full runway shows (in fulls screen), check out Style.com


The shows aren't done yet!
Neither am I...

Posted by

harryshouldnotblog
at 9:12 AM
1 comment:

Labels: Alexander Wang, Altuzarra, Carolina Herrera, Donna Karan, Doo.Ri, fashion week, Herve Leger, Hutson, Jenni Kayne, lists, Michael Kors, Oscar de la Renta, rodarte, Victoria Beckham
Spring/Summer 2009 Coverage

Blog Archive
About Me
Really, I don't want to be that stereotypical gay teenager who blogs about fashion...but I'm out of my head for the whole affair, it simply can't be helped! I'm going to communicate what's on my mind, say/do what you will! I do care about said thoughts, though, I cannot lie. I guess I'm somewhat intelligent, but not very mature. I am, in turns, a minimalist and a maximalist. Sorry about...my...wording... I'm fifteen. I live near Boston. Blah. My interests aren't as insular as they appear! I swear! I do theater, I love photography, and I write. Obviously, I suppose. Thanks for humoring me. No, really.
View my complete profile